RAM2 - Automating Industrial Digital Risk Mitigation
OTORIO's Risk Assessment, Monitoring and Management (RAM2) platform centralizes, simplifies, and automates industrial digital risk-based management. RAM2 is an industrial-tailored Security Orchestration, Automation and Response (SOAR) solution that ensures comprehensive management of digital risks, preventive risk mitigation, and rapid responses to threats.
MAIN FEATURES
• Detailed view of asset inventory along with production and business contextual risk assessment
• Easy-to-follow playbooks cover multiple attack vectors, scenarios, and industrial processes
• Compliance tracking and automated compliance scoring model
• Automated OT vulnerability management
• Case management tracking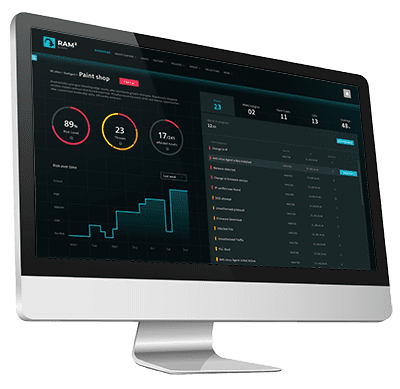 Securing The Industrial Digital Transformation
OTORIO delivers industrial-native digital and cyber risk management solutions, enabling reliable, safe and efficient digital production.
OTORIO empowers secured-by-design roll-outs of industry 4.0 initiatives by making cyber-security risk-avoidance an integral part of the operational life cycle. By simplifying complex IT/OT security processes, OTORIO ensures industrial control systems security, with continuous management and remediation of digital and cyber risks based on their business impact, safety, reliability, and productivity.